The Best Herbal Salve Ever® - Prairie Spirit®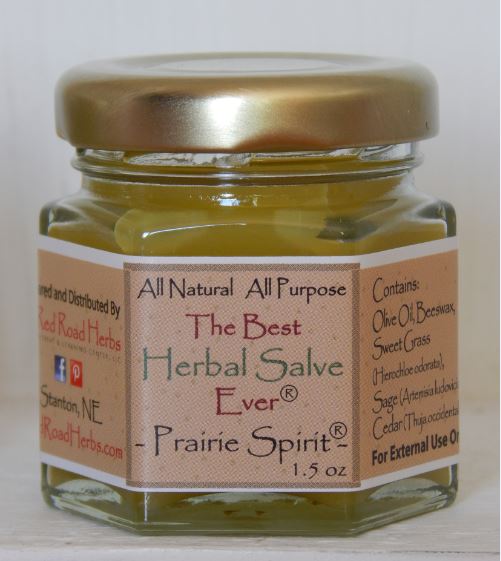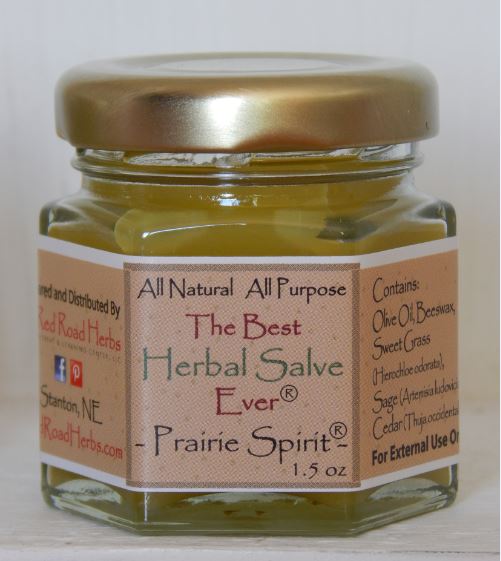 The Best Herbal Salve Ever® - Prairie Spirit®
The Best Herbal Salve Ever® - Prairie Spirit® is our special blend of prairie herbs honored by the Indigenous People of the Plains, Sweetgrass (Anthoxanthum nitens), Cedar (Thuja occidentalis) and Prairie Sage (Artemisia ludoviciana.) They also contain anti-bacterial, astringent and anti-inflammatory properties. This skin-soothing salve has a delicious and delightful scent of sweetgrass with accents of spicy cedar and mellow, earthy sage.
The Best Herbal Salve Ever® is hand-made is small batches to ensure superior quality. Our herbs are grown in harmony with nature – no chemicals. They are respectfully harvested by hand and air-dried to retain peak potency. Dried herbs are infused in Extra Virgin Olive Oil using only solar heat to retain potency. Once decanted, the oil is mixed with pure beeswax from a local source.
All-natural ingredients - herbal-infused olive oil and beeswax - that's it!
Great for kids and pets!
Must-have for every medicine cabinet, kitchen cupboard, tool box, changing table, first aid kit!