The Best Herbal Salve Ever® - Original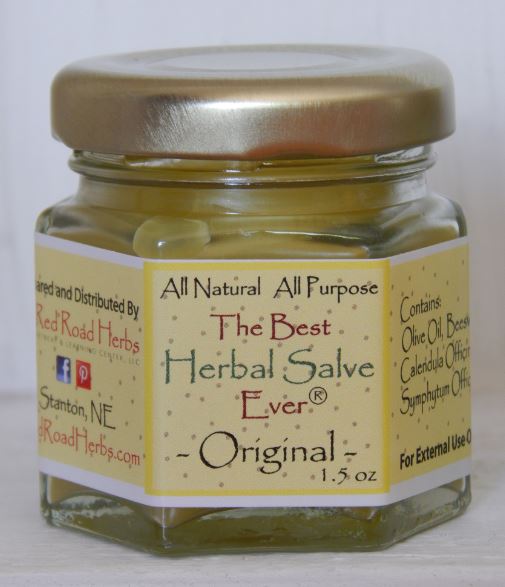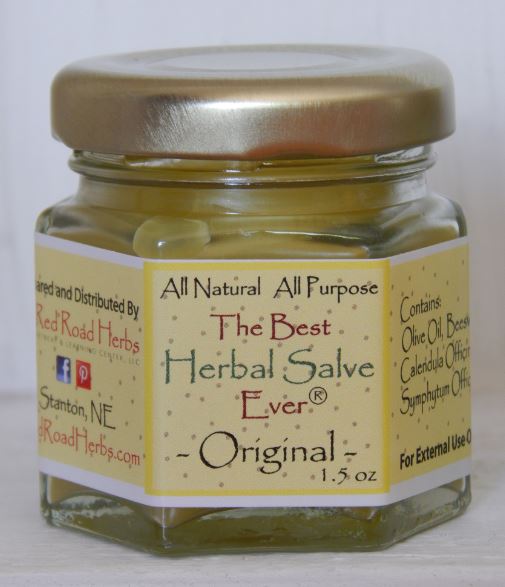 The Best Herbal Salve Ever® - Original
The Best Herbal Salve Ever® - Original is made with Calendula (Calendula officinalis) and Comfrey (Symphytum officinale), providing full-spectrum skin care. Calendula's beautiful, golden flowers have antiseptic, anti-fungal, anti-inflammatory, and antibacterial properties. Tender young Comfrey leaves have been used to stimulate the growth of new cells and encourage muscle tissue and bone repair. This is an all-purpose skin salve to treat wounds, cuts, scrapes, bruises, acne, mild burns, sunburn, diaper rash, eczema, psoriasis, hives, and prevent stretch marks.
The Best Herbal Salve Ever® is hand-made is small batches to ensure superior quality. Our herbs are grown in harmony with nature – no chemicals. They are respectfully harvested by hand and air-dried to retain peak potency. Dried herbs are infused in Extra Virgin Olive Oil using only solar heat to retain potency. Once decanted, the oil is mixed with pure beeswax from a local source.
All-natural ingredients - herbal-infused olive oil and beeswax - that's it!
Great for kids and pets!
Must-have for every medicine cabinet, kitchen cupboard, tool box, changing table, first aid kit!
INGREDIENTS:
Symphytum officinale, Calendula officinalis, Extra Virgin Olive Oil, Locally* sourced Beeswax
*Stanton County, Nebraska
The Best Herbal Salve Ever! Testimonials
"Your Herbal Salve cleared up my daughter's eczema. My son had a bruise on his forehead from a tumble and with The Best Herbal Salve Ever, it disappeared overnight." ~ Brian from Arizona
"The Best Herbal Salve Ever worked so good my doctor asked what I was using to heal the serious injury to my hand." ~ Judd from Florida
"My grandson hated putting anything on his rashes or cuts. He asks for your Herbal Salve and it works!" ~ Carol from Oklahoma
"The Best Herbal Salve Ever is the best stuff I've ever used for cuts on my hands and dry skin." ~ Joseph from South Dakota
"It works better than anything else I've used. It's wonderful. It heals everything from ingrown hairs and pimples, to heat rash and dry skin." ~ Marcia from Nebraska
"After two pregnancies and no stretch marks, I would highly recommend The Best Herbal Salve Ever." ~ Jennifer from Germany
"My daughter cut her finger on a can and we bandaged it up in your salve with a band-aid. We kept re-applying the salve and it had healed in a matter of a few days." ~ Kaylee from Nebraska